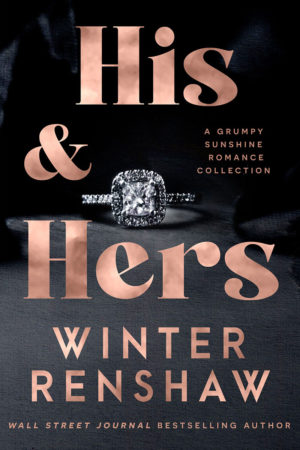 Title:
His & Hers: A Grumpy Sunshine Romance Collection
Release Date:
March 21, 2023
Buy the Book:
Amazon
There are two sides to every love story: his—and hers.
From Wall Street Journal and #1 Amazon bestselling author Winter Renshaw comes a collection of binge-worthy romance novels that have captured the hearts of readers all over the world. These seven full-length, standalone novels feature grumpy, alpha-hole heroes and the intelligent, fearless women they never saw coming.
From the pages of ABSINTHE, where two internet strangers find themselves in the midst of forbidden love when they unexpectedly meet in person, to TRILLION, a fake-engagement boss-employee romance with a trilionaire twist, this collection has it all.
Meet a woman who returns home after ten years to make good on a marriage pact with her rough and tumble high school sweetheart in WHISKEY MOON. Discover what happens when you accidentally fall for your ex's insufferably heartless best friend in STONE COLD. And that's just the beginning.
These angsty, addictive standalones will keep you reading late into the night. Don't miss out on the chance to own this limited-edition grumpy sunshine, opposites-attract, enemies-to-lovers collection!
INCLUDED IN THIS BOX SET:
1. Stone Cold
2. Absinthe
3. Trillion
4. Hate the Game
5. Whiskey Moon
6. The Best Man
7. Enemy Dearest